General
New E-Passport and E-Driving License Introduced. What Innovations are Coming?
By Minister of Interior Süleyman Soylu, it was underlined that the serial production of the domestic passport, whose design stages and prototype production were completed, has reached the final stage. At the meeting held at the General Directorate of Population and Citizenship Affairs, the locally produced e-Passport, the new e-Driving License and also the e-Blue card were introduced. Reminding that the new generation chip passports have been used since 2018, the Minister stated that these passports were obtained from a company in Europe. However, with the chip crisis in the world, it has become increasingly difficult to obtain chip passports, Soylu said, adding that efforts are being made to avoid any problems with the stocks supplied previously.
According to this statement, Turkey will start to produce its own chip e-Passports and e-Driving License as of August 2022. The new passport, which has many security codes, includes many innovations with its security features and technology. In addition, new driver's licenses, which started to be used as of 2016, are also renewed. Stating that the driver's licenses were also redesigned, Mr. Soylu said, "The new e-Driving License has also been technologically developed using a contactless chip, and the security level has been maximized." said. In addition, the Minister underlined that the word "Turkey" will be included in the driver's licenses instead of "Turkey". In addition, the e-Blue Card application will soon be launched instead of the old generation blue cards.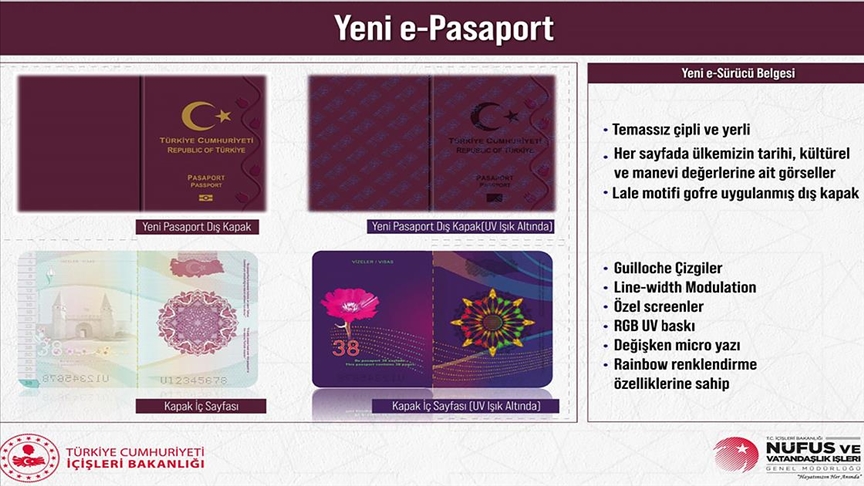 If you have questions about the new e-Passport and e-Driving License, you can send them to us in the comments section.